Series ADNAX D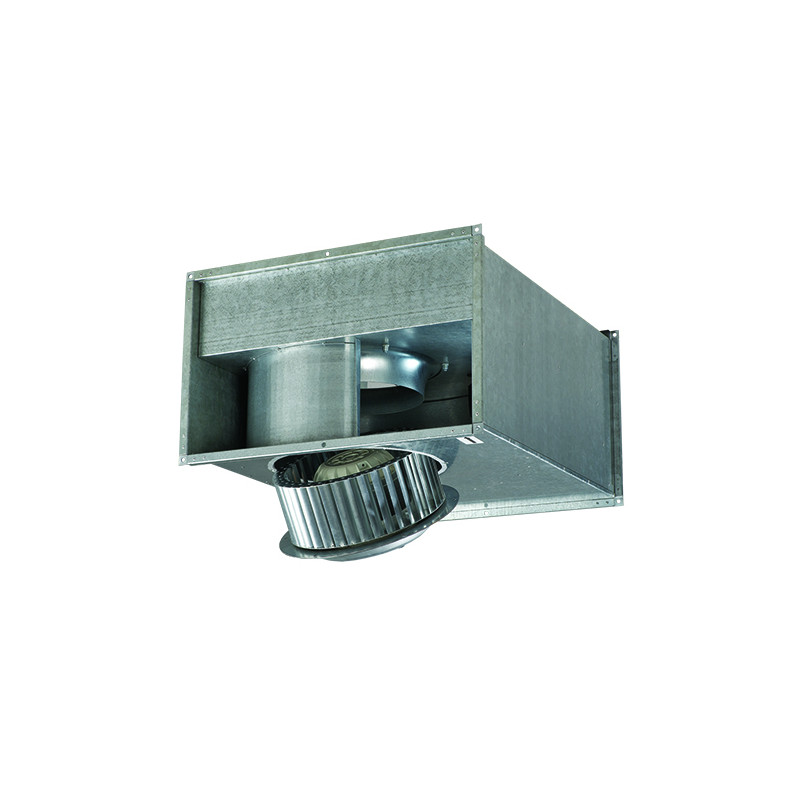 Centrifugal fans for rectangular ducts with asynchronous motors and forward curved blades.
Combination name
Code
EAN
Availability
Price VAT excl.
Preis VAT incl.
Add to cart
APPLICATION
Inline rectangular fans are intended for supply and exhaust ventilation of residential, public and industrial premises (production and storage facilities, sport halls, swimming pools, large auditoriums, conference halls, etc.). The fans are designed for mounting into rectangular ducts. The fans are rated for continuous operation always connected to mains power.


DESIGN
Fan casing is made of galvanized steel.


MOTOR
The impeller, with forward curved blades is made of galvanized steel and powered by a 4, 6 or 8-pole external rotor asynchronous motor. Such a modification ensures high air flow capacity and relatively significant differential pressure. For thermal overheating protection, thermal contacts with terminals leading outside, are incorporated in the motor winding for connection with external protection devices. The motor is equipped with ball bearings for a long service life. For precise features, safe operation and low noise, each impeller is dynamically balanced during assembly. Motor protection rating IP 44.


SPEED CONTROLLER
Both smooth or step speed control is performed by means of a thyristor or autotransformer controller. Several fans may be connected to one speed controller provided that the total power and operating current do not exceed the rated speed controller parameters.


MOUNTING
The fans are designed for inline rectangular air duct mounting and require no special fixing in case of direct connection. In case of connection through the flexible connectors, the fan is fixed to a building by means of supports, suspension brackets or fixation brackets. The fans can be mounted in any position with respect to the pointer direction on the casing. Access for fan maintenance should be provided. The fan is powered through its external terminals. The casing is provided with a removable access door for maintenance.

CUSTOMS CODE: 84145935

Model



Voltage (V) at 50 Hz

Power
consumption (W)

Current
(A)


r.p.m.



Maximum air
capacity
(m3/h)

Sound pressure
level at
3m (db(A))
Weight
(kg)


Graphs



ADNAX D 400x200 - 4 poles
1~230
295
1,32
1350
1440
50
17,5
Detail  
ADNAX D 500x250 - 4 poles
1~230
535
2,49
1250
1750
53
24
Detail  
ADNAX D 500x300 - 4 poles
1~230
710
3,10
1230
2350
57
33
Detail  
ADNAX D 600x300 - 4 poles
1~230
1240
6,45
1210
2950
59
35
Detail  
ADNAX D 600x350 - 4 poles
1~230
2840
13,90
1260
4260
59
49,5
Detail  
ADNAX D 500x250 - 6 poles
1~230
244
1,22
910
1460
45
24
Detail  
ADNAX D 500x300 - 6 poles
1~230
283
1,59
890
1550
47
33
Detail  
ADNAX D 600x300 - 6 poles
1~230
419
2,05
870
2260
50
35
Detail  
ADNAX D 600x350 - 6 poles
1~230
720
3,6
820
2755
51
49,5
Detail  
ADNAX D/400V 400x200 - 4 poles
3~400
282
0,60
1300
1470
52
17,5
Detail  
ADNAX D/400V 500x250 - 4 poles
3~400
570
0,94
1270
1850
54
24
Detail  
ADNAX D/400V 500x300 - 4 poles
3~400
855
1,70
1300
2350
56
33
Detail  
ADNAX D/400V 600x300 - 4 poles
3~400
1560
2,73
1310
3740
57
35
Detail  
ADNAX D/400V 600x350 - 4 poles
3~400
2460
3,93
1300
5020
60
49,5
Detail  
ADNAX D/400V 700x400 - 4 poles
3~400
3630
6,00
1320
6450
65
60
Detail  
ADNAX D/400V 800x500 - 4 poles
3~400
5850
9,35
1140
8120
67
74
Detail  
ADNAX D/400V 500x250 - 6 poles
3~400
274
0,67
930
1490
45
24
Detail  
ADNAX D/400V 500x300 - 6 poles
3~400
303
0,8
910
1620
51
33
Detail  
ADNAX D/400V 600x300 - 6 poles
3~400
397
0,78
920
2320
49
35
Detail  
ADNAX D/400V 600x350 - 6 poles
3~400
743
1,47
940
3310
55
49,5
Detail  
ADNAX D/400V 700x400 - 6 poles
3~400
1150
2,3
890
7610
58
56
Detail  
ADNAX D/400V 800x500 - 6 poles
3~400
2790
5,18
830
9540
59
70
Detail  
ADNAX D/400V 900x500 - 6 poles
3~400
3870
7,00
930
4050
61
90
Detail  
ADNAX D/400V 1000x500 - 6 poles
3~400
3870
7,00
930
9540
61
95
Detail  
ADNAX D/400V 800x500 - 8 poles
3~400
1377
3,40
710
5620
58
70
Detail  
ADNAX D/400V 900x500 - 8 poles
3~400
2000
4,1
680
7175
59
90
Detail  
ADNAX D/400V 1000x500 - 8 poles
3~400
2000
4,1
680
7175
59
95
Detail  
Model
Dimensions (mm)
B
B1
B2
H
H1
H2
H3
L
Downloads
ADNAX D 400x200 - 4 poles
400
420
440
200
220
240
255
500
Detail 
ADNAX D 500X250 - 4 poles
500
520
540
250
270
290
335
640
Detail 
ADNAX D 500x300 - 4 poles
500
520
540
300
320
340
365
680
Detail 
ADNAX D 600x300 - 4 poles
600
620
640
300
320
340
375
680
Detail 
ADNAX D 600x350 - 4 poles
600
620
640
350
370
390
425
735
Detail 
ADNAX D 500x250 - 6 poles
500
520
540
250
270
290
335
640
Detail 
ADNAX D 500x300 - 6 poles
500
520
540
300
320
340
365
680
Detail 
ADNAX D 600x300 - 6 poles
600
620
640
300
320
340
375
680
Detail 
ADNAX D 600x350 - 6 poles
600
620
640
350
370
390
425
735
Detail 
ADNAX D/400V 400x200 - 4 poles
400
420
440
200
220
240
255
500
Detail 
ADNAX D/400V 500x250 - 4 poles
500
520
540
250
270
290
335
640
Detail 
ADNAX D/400V 500x300 - 4 poles
500
520
540
300
320
340
365
680
Detail 
ADNAX D/400V 600x300 - 4 poles
600
620
640
300
320
340
375
680
Detail 
ADNAX D/400V 600x350 - 4 poles
600
620
640
350
370
390
425
735
Detail 
ADNAX D/400V 700x400 - 4 poles
700
720
740
400
420
440
480
780
Detail 
ADNAX D/400V 800x500 - 4 poles
800
820
840
500
520
540
580
820
Detail 
ADNAX D/400V 500x250 - 6 poles
500
520
540
250
270
290
335
640
Detail 
ADNAX D/400V 500x300 - 6 poles
500
520
540
300
320
340
365
680
Detail 
ADNAX D/400V 600x300 - 6 poles
600
620
640
300
320
340
375
680
Detail 
ADNAX D/400V 600x350 - 6 poles
600
620
640
350
370
390
425
735
Detail 
ADNAX D/400V 700x400 - 6 poles
700
720
740
400
420
440
480
780
Detail 
ADNAX D/400V 800x500 - 6 poles
800
820
840
500
520
540
580
820
Detail 
ADNAX D/400V 900x500 - 6 poles
900
920
940
500
520
540
580
954
Detail 
ADNAX D/400V 1000x500 - 6 poles
1000
1020
1040
500
520
540
580
954
Detail 
ADNAX D/400V 800x500 - 8 poles
800
820
840
500
520
540
580
820
Detail 
ADNAX D/400V 900x500 - 8 poles
900
920
940
500
520
540
580
954
Detail 
ADNAX D/400V 1000x500 - 8 poles
1000
1020
1040
500
520
540
580
954
Detail