Series ADNAX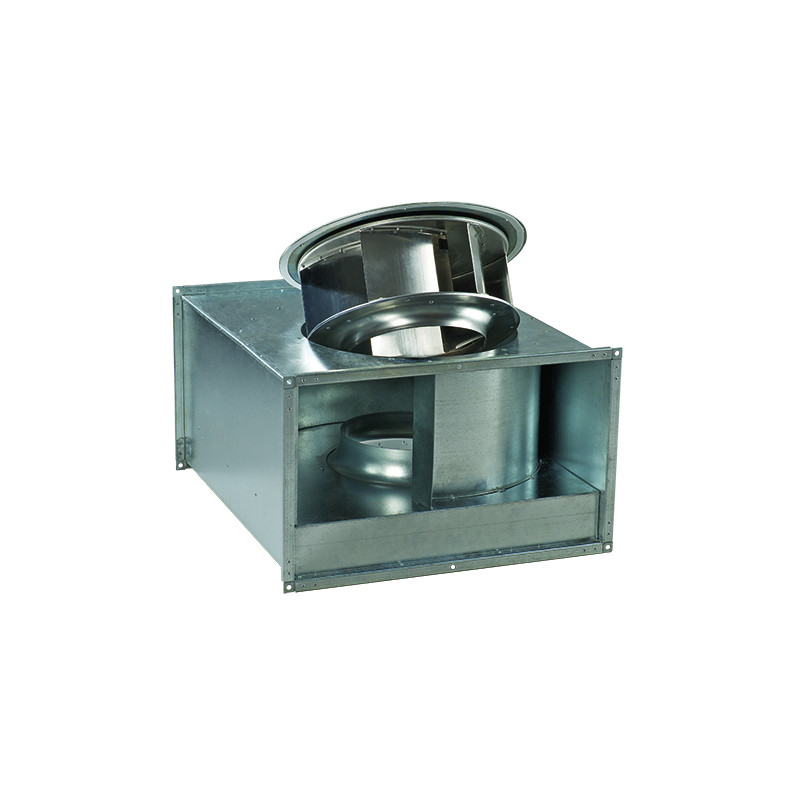 These centrifugal fans for rectangular ducts have asynchronous motors and backward curved blades.
Combination name
Code
EAN
Availability
Price VAT excl.
Preis VAT incl.
Add to cart
APPLICATION
Inline rectangular fans are intended for supply and exhaust ventilation of residential, public and industrial premises (production and storage facilities, sport halls, swimming pools, large auditoriums, conference halls, etc.). The fans are designed for mounting into rectangular ducts. The fans are rated for continuous operation, always connected to mains power.


DESIGN
Fan casing is made of galvanized steel.


MOTOR
The impellers with backward curved impeller blades are made of galvanized steel and are powered by means of a 2 or 4-pole asynchronous motor with an external rotor. Motors are supplied with incorporated overheating protection  and with automatic restart or thermal protection terminals leading outside for connection to external protection devices depending on the model, as per the wiring diagram. The motor is equipped with ball bearings for a long service life. For precise features, safe operation and low noise, each impeller is dynamically balanced during assembly. Motor protection rating IP 44.


SPEED CONTROLLER
Both smooth or step speed control is performed by means of a thyristor or autotransformer controller. Several fans may be connected to one speed controller provided that the total power and operating current do not exceed the rated speed controller parameters.


MOUNTING
The fans are mounted into the rectangular ducts and require no special fixing in case of direct connection. In case of connection through the flexible connectors, the fan is fixed to a building by means of supports, suspension brackets or fixation brackets. Fans can be mounted in any position with respect to the airflow direction (indicated with an arrow on the casing). Access for fan maintenance should be provided. The fan is powered through its external terminals. The casing is equipped with a removable access cover for maintenance purposes.

CUSTOMS CODE: 84145935

Model



Voltage (V)
at 50 Hz


Power
consumption (W)


Current (A)



r.p.m.



Maximum air
capacity
(m3/h)
Sound pressure
level at 3m
(db(A))
Weight (kg)



Graphs




ADNAX 400x200 - 2 poles

1~220~240

138

0,60

2600

930

59

11,25

Detail 

ADNAX 500x250 - 2 poles

1~220~240

305

1,32

2550

1720

61

17,88

Detail 

ADNAX 500x300 - 4 poles

1~220~240

140

0,57

1390

1700

53

19,8

Detail 

ADNAX 600x300 - 4 poles

1~220~240

220

0,9

1400

2470

55

22,77

Detail 

ADNAX 600x350 - 4 poles

1~220~240

470

2,37

1370

2950

67

36,38

Detail 

ADNAX/400V 500x300 - 4 poles

3~400

136

0,34

1360

1380

53

19,8

Detail 

ADNAX/400V 600x300 - 4 poles

3~400

230

0,52

1360

2530

53

22,77

Detail 

ADNAX/400V 600x350 - 4 poles


3~400


3~400 Y

510


380

1,41


0,7

1415
1235
2970


2970

64


63

36,38


36,38

ADNAX/400V 1000x500 - 4 poles

3~400

3800

6,6

1360

15000

70

126,0

Detail 
Model
Dimensions (mm)
B
B1
B2
H
H1
H2
H3
L
Downloads
ADNAX 400x200 - 2 poles
400
420
440
200
220
240
240
500
Detail 
ADNAX 500x250 - 2 poles
500
520
540
250
270
290
290
640
Detail 
ADNAX 500x300 - 4 poles
500
520
540
300
320
340
340
680
Detail 
ADNAX 600x300 - 4 poles
600
620
640
300
320
340
342
680
Detail 
ADNAX 600x350 - 4 poles
600
620
640
350
370
390
390
735
Detail 
ADNAX/400V 500x300 - 4 poles
500
520
540
300
320
340
340
680
Detail 
ADNAX/400V 600x300 - 4 poles
600
620
640
300
320
340
342
680
Detail 
ADNAX/400V 600x350 - 4 poles
600
620
640
350
370
390
390
735
Detail 
ADNAX/400V 1000x500 - 4 poles
1000
1020
1040
500
520
540
720
1150
Detail