Series SKT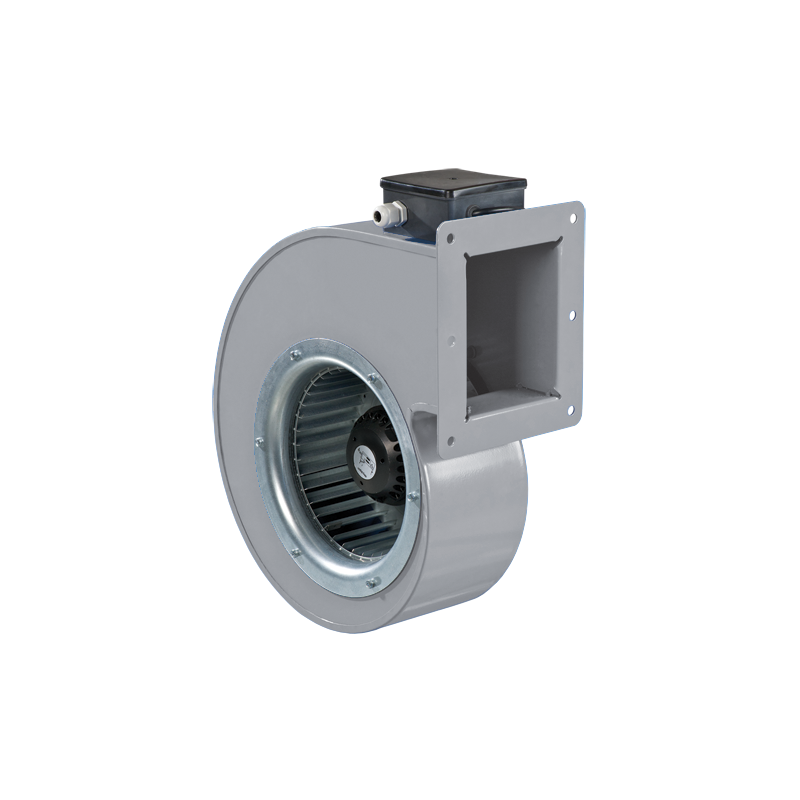 Scroll-type single-inlet centrifugal fans powered by external rotor motor. Air capacity up to 2000 m³/h.
Combination name
Code
EAN
Availability
Price VAT excl.
Preis VAT incl.
Add to cart
APPLICATION

Designed for supply and exhaust ventilation of various premises. The fan can be used as a component for ventilation and air conditioning systems and is suitable for outside mounting.


DESIGN
The fan casing is made of steel with polymeric coating.


MOTOR
The impeller with forward curved blades made of galvanized steel is powered by a 2 or 4-pole single phase external rotor asynchronous motor. The motors are equipped with incorporated thermal overheating protection with automatic restart as well as ball bearings for a long service life. For precise features, safe operation and low noise, each turbine is dynamically balanced during assembling. Motor protection rating IP 44.


SPEED CONTROL
Both smooth and step speed control is performed via a triac or autotransformer controller. Several fans can be connected to one controller in case the total power and operating current do not exceed the controller rated values.


MOUNTING
The fan is suitable for installation in ventilation chambers, air conditioning units or can be used individually. In case of independent operation, it can be connected to air ducts by means of either both exhaust and inlet branch pipes or exhaust branch pipe only. The exhaust and intake branch pipes have rectangular or circular sections accordingly. Power is supplied by means of external terminals.

CUSTOMS CODE: 84145935
Model





Voltage (V)


at 50 Hz



Power
consumption
(W)


Current
(A)



r.p.m.




Maximum
air
capacity (m3/h)


Sound
pressure
level at
3m (dB(A))

 Weight
(kg)



Trasported
air
temperature (°C)


Graphs




 SKT 140x60       
1∼230
148
0.64
2820
515
68
3.7
-25/+45
 Detail 
 SKT 160x62
1∼230
264
1.17
2630
560
70
4.8
-25/+50
 Detail 
 SKT 160x90
1∼230
258
1.16
2745
640
70
5.5
-25/+45
 Detail 
 SKT 180x92 
1∼230
160
0.7
1465
800
62
7.1
-25/+45
 Detail 
 SKT 200x102
1∼230
280
1.25
1475
1350
65
8.0
-25/+40
 Detail 
 SKT 225x102
1∼230
395
1.98
1330
1480
69
11.9
-40/+70
 Detail 
 SKT 250x140
1∼230
570
2.48
1310
2000
60
16.3
-40/+70
 Detail 
Model
Dimensions (mm)
∅D
B
H
H1
H2
L
L1
L2
P
M
d
 Downloads 
SKT 140x60
140
243
287
125
92,5
86
110
78,4
116
150
9
  Detail 
SKT 160x62
160
277
324
136
106
106
130
98,4
139
200
9
  Detail 
SKT 160x90
160
277
324
136
106
136
158
127
168
200
9
  Detail 
SKT 180x92
180
311
360
150
120
148
170
104,4
181
230
9
  Detail 
SKT 200x102
200
345
398
165
134
152
175
143
185
240
9
  Detail 
SKT 225x102
225
365
441
210
171
145
170
137
178
250
9
  Detail 
SKT 250x140
250
410
485
230
191
205
230
197
238
270
9
  Detail