Dalap SAF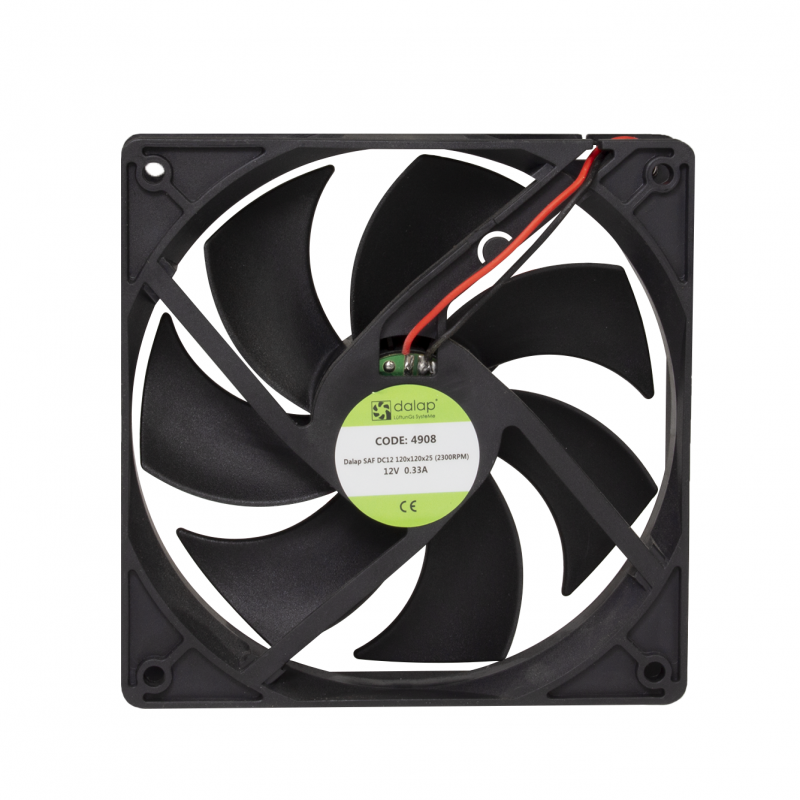 They have some superior features such as large air volume,low noise,low EMl,low power consumption,high effciency and long life etc.
Combination name
Code
EAN
Availability
Price VAT excl.
Preis VAT incl.
Add to cart
APPLICATION
- They are specially used in computer system. Office automation products, and automatic applications on the ground
  for air cooling and venting where there is a DC power supply.
---
APPLICATION CONDITIONS
- Temperature Range(℃): -20℃~+40℃ Sleeve Bearing
- Humidity permissible(%): ≤90%(25℃)
- Atmospheric Pressure: 55kPa
- Vibration Permissible: Frequency 10Hz,Double Amplitude 1.5mm
- Impact Permissible: (peakacceleration)40m/S²
---
DESIGN
- Each of the fans has DC brushless motor for driving, a tubulal frame and plastic impeller.
---
Model
Dimensions [mm]

code

Width

Height

Depth
Weight
[g]


-------------
a×a
b
Downloads
Dalap SAF DC12
40x40x20
4900
40×40

20

28
Detail
Dalap SAF DC12
50x50x10
4901
50×50
10
18
Detail
Dalap SAF DC12
50x50x15
4902
50×50
15
/
Detail
Dalap SAF DC12
60x60x20
4903
60×60
20
50
Detail
Dalap SAF DC12
60x60x25
4904
60×60
25
58
Detail
Dalap SAF DC12
80x80x25
4905
80×80
25
82
Detail
Dalap SAF DC12
80x80x25
4906
80×80
25
82
Detail
Dalap SAF DC12
92x92x25
4907
92×92
25
103
Detail
Dalap SAF DC12
120x120x25
4908
120×120
25
164
Detail
--------------------------------------------------------------------------------------------------------------
Dalap SAF DC24
40x40x20
4909
40×40
20
28
Detail
Dalap SAF DC24
80x80x25
4911
80×80
25
82
Detail
--------------------------------------------------------------------------------------------------------------
Dalap SAF 230V
80x80x25
4912
80×80
25
/
Detail
Dalap SAF 230V
80x80x38
4913
80×80
38
/
Detail
Dalap SAF 230V
92x92x25
4914
92×92
25
/

Detail 

Dalap SAF 230V
120x120x38
4915
120×120
38
/

Detail 

Dalap SAF 230V
170x170x51
4916
170×170
51
/

Detail 
Model


code


Voltage
AC/DC

[V]
Current


[A]
Power


[W]
Air
volume

[CFM]
RPM




Noise
level

[dB]
Frame
matrial



Bearing
type



Color





DALAP SAF DC12




40X40X20

4900
12
0,10
1,20
10,10
7800
31,9




plastic
sleeve
black

DALAP SAF DC12




50X50X10

4901
12
0,09
1,08
11,20
5000
26,0
sleeve

black

DALAP SAF DC12




50X50X15

4902
12
0,15
1,80
14,55
5000
33,0

sleeve

black

DALAP SAF DC12




60X60X20

4903
12
0,16
1,92
16,40
4500
29,6




plastic

sleeve

black

DALAP SAF DC12




60X60X25

4904
12
0,23
2,76
23,20
4500
32,0

sleeve

black

DALAP SAF DC12




80X80X25

4905
12
0,14
1,68
32,90
2600
29,2

sleeve

black

DALAP SAF DC12




80X80X25

4906
12
0,18
2,16
38,60
3000
32,0




plastic

sleeve

black

DALAP SAF DC12




92X92X25

4907
12
0,20
2,40
50,00
3000
32,2

sleeve

black

DALAP SAF DC12




120X120X25

4908
12
0,32
3,84
85,0
2300
35,0

sleeve

black

---------------------------------------------------------------------------------------------------------------------------------------------------------------------------------------------------------

DALAP SAF DC24




40X40X20

4909
24
0,09
2,16
10,10
7800
31,9
plastic

sleeve

black

DALAP SAF DC24




80X80X25

4911
24
0,08
1,92

38,60

3000
32,0

plastic

sleeve

black

---------------------------------------------------------------------------------------------------------------------------------------------------------------------------------------------------------

DALAP SAF 230V




80X80X25

4912
230
0,08
14
15
2350
29




metal

sleeve

black

DALAP SAF 230V




80X80X38

4913
230
0,08
14
23
2300
31

sleeve

black

DALAP SAF 230V




92X92X25

4914
230
0,08
15
23
2250
36

sleeve

black

DALAP SAF 230V




120X120X38

4915
230
0,14
22
90
2700
44


metal

sleeve

black

DALAP SAF 230V




170X170X51

4916
230
0,23
37
150
2200
65

sleeve

black